The Anatomy of a Crude Oil Trade – Option Campaign Conclusion August2013
Executive Summary: Return on investment of 142% over 130 days giving a projected return per annum of 400%.
Executive Details:  Three 105 Strike September 2013 Crude Light (CLU) call options were purchased at an average date of 23Mar13 at an average cost of $933.33 each (Total $2800) and were sold at an average date of 31Jul13 at an average price of $2266.67 (Total $6800).  Costs were $13.92 leaving a total profit of $3986.08.
This is the second of two articles written Sunday 18Aug13 ACST. 
Article#1: The Anatomy of a Crude Oil Trade – March2013
Article#3: The Anatomy of a Crude Oil Trade – CFD & Futures Campaign
Campaign Conclusion and Results:
The final two calls were exited per IB account below:

The following option price chart shows the final two exits at the time: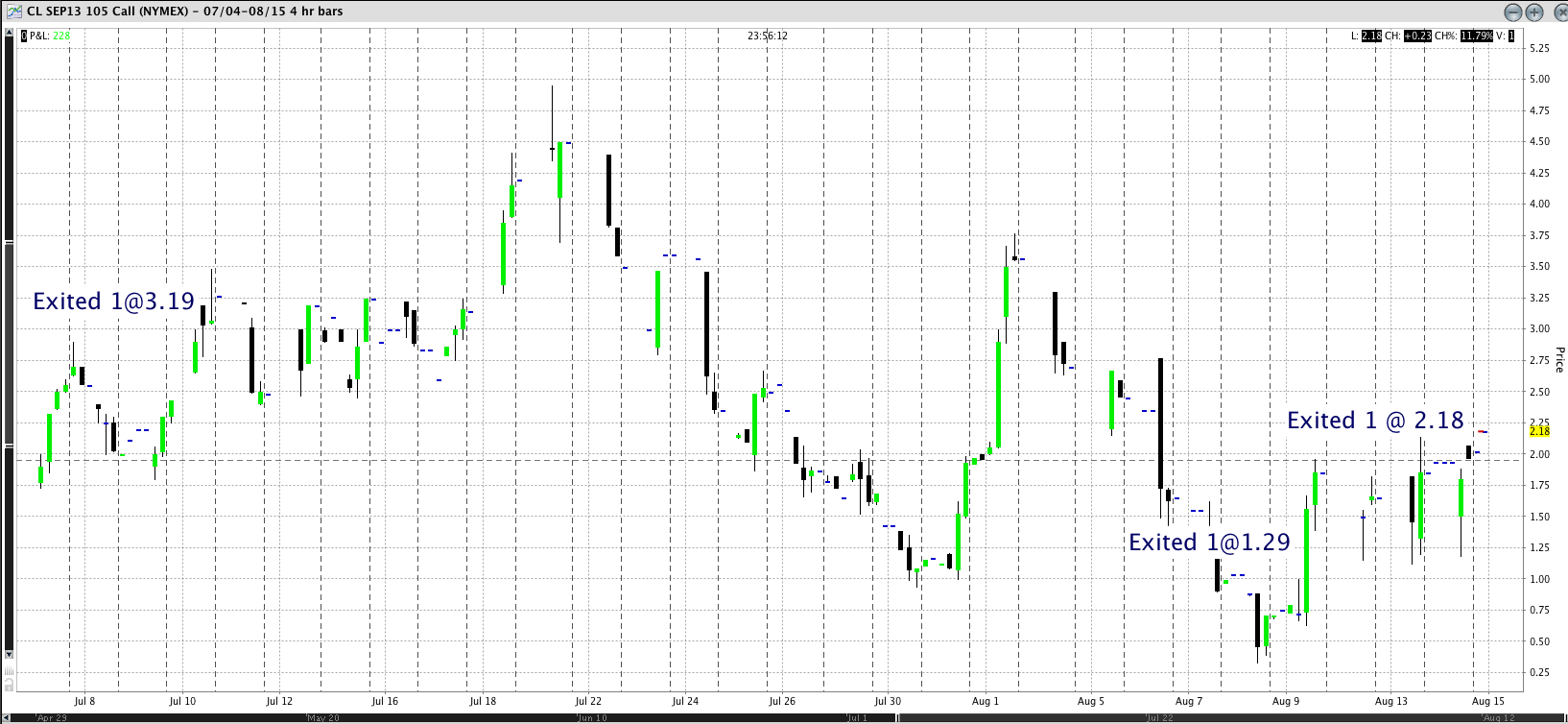 The 105 strike September 2013 call option contract expired on 15Aug13 (US time).  Here is the final option price chart: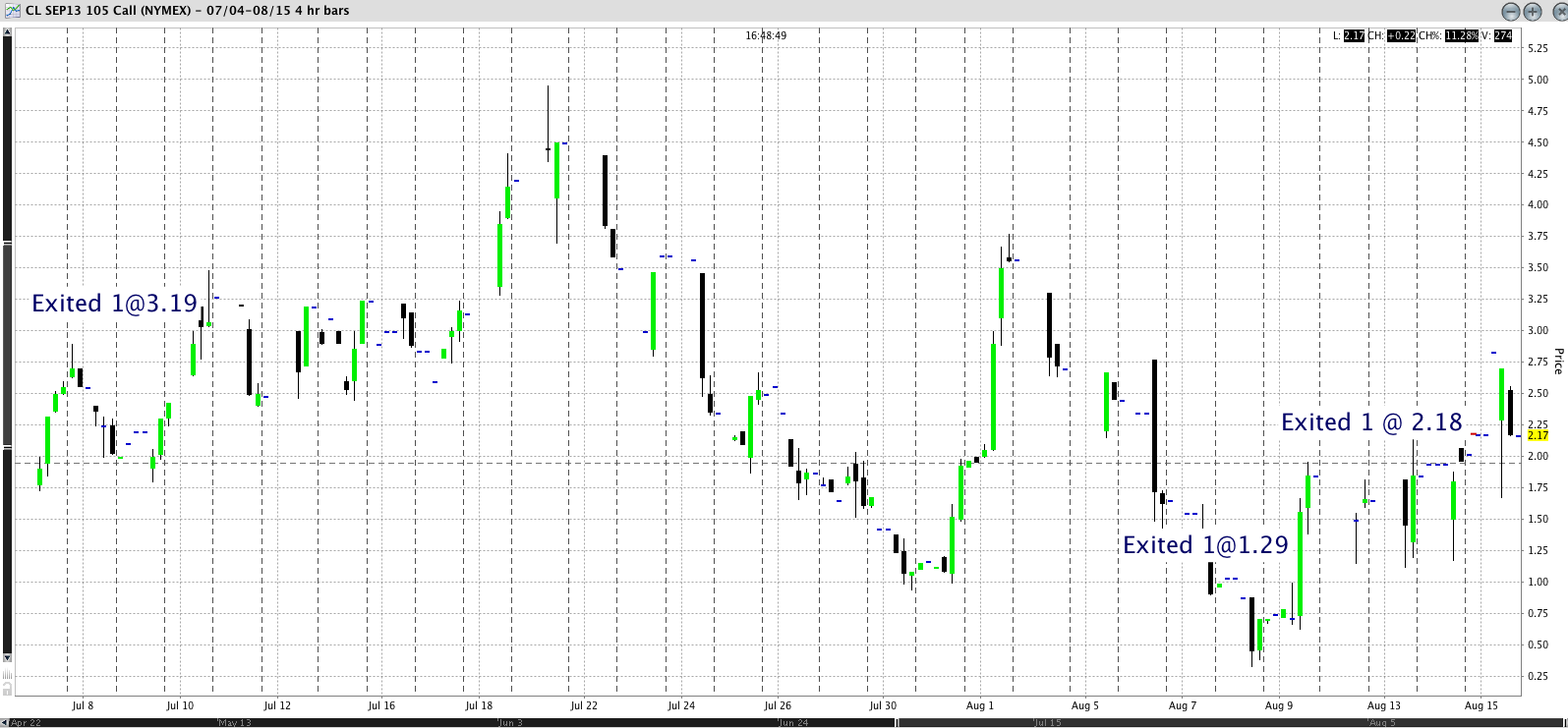 Here is the final CLU (Crude Light September) price chart: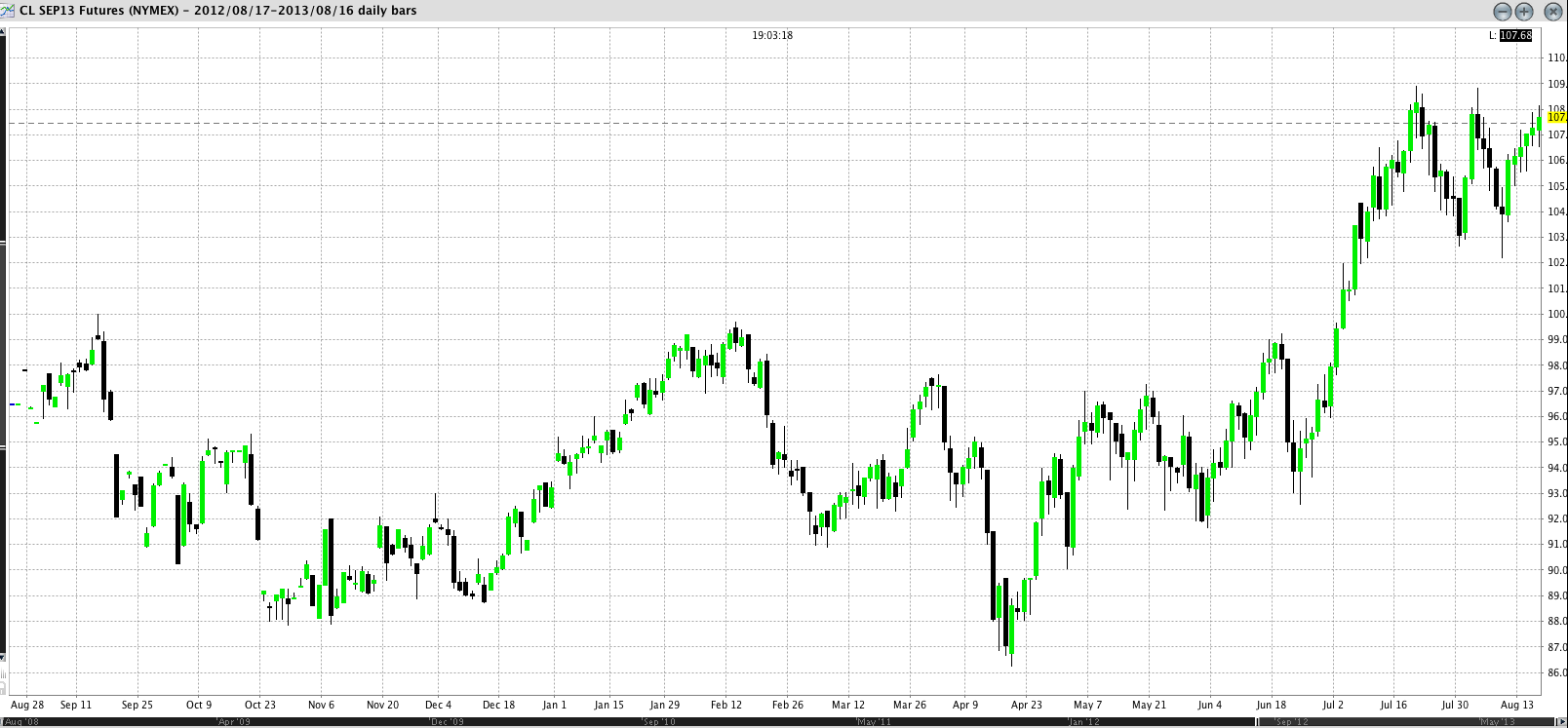 Overall Metrics:

Upon Reflection:
Crude closed at 94.11 on 18Mar13 when the first call was purchased.  You need to understand that the 105 strike price was calculated well ahead of time.  Please note that if price did not reach 105 by 15Aug13 then these calls would have expired worthless.  It is handy to be able to predict time and price thanks to cyclic understanding……
Could I have exited these calls at better prices?  Of course – but I didn't.  There is no 'could have', 'should have' or  'would have' about what I have described.  As a trader you can cause serious psychological issues for yourself if you ruminate over what may have been.  However, it is important to reflect on any errors or any room for improvement after every trade.
In these two articles I have demonstrated that I made the trade call well ahead of time and showed why.  Part way through the trade I published the first article and described what I was going to do and why.  Then I did it as described in this article.  All with real money in real time.
The final metrics speak for themselves.
Article#3: The Anatomy of an Oil Trade – CFD & Futures Campaign
Where To From Here?
•  The next article will show the results of trading Crude using futures contracts.  Cyclic understanding can be applied to all markets and all trading vehicles (Shares, CFDs, ETFs, Futures, Optios etc).
•  I am more than happy to engage in private discussion on any aspect covered in these articles.  Shoot me an email.
•  What I have done, and why, is taught in the Advanced Cycles course.  Registration deadline: 24Aug13.
See Advanced Cycles outline
See Course Dates and Fees
See Payment
•  Personal coaching/mentoring is available.
See Guide Beside