FOREX Trade 140214
On Wednesday 12 February 2014 during the WEA course 'How Do I Trade Forex', I took a public real time trade that resulted in a potential annualized return of over 2 million percent.
I explained to the class that I tend not to trade regularly on an intraday basis.  I use intraday trades for entry and exit purposes on the longer cycles.
This trade was for demonstration purposes to show what a trading platform looks like and how entry and exit orders work.
However, given that I was going to trade I had to make a decision to go long or to go short.  Long = buy low and sell back high.  Short = sell high and buy back low.  I explained my reasoning (plan) and took a short trade risking $2.  Yup, risk = $2!!!!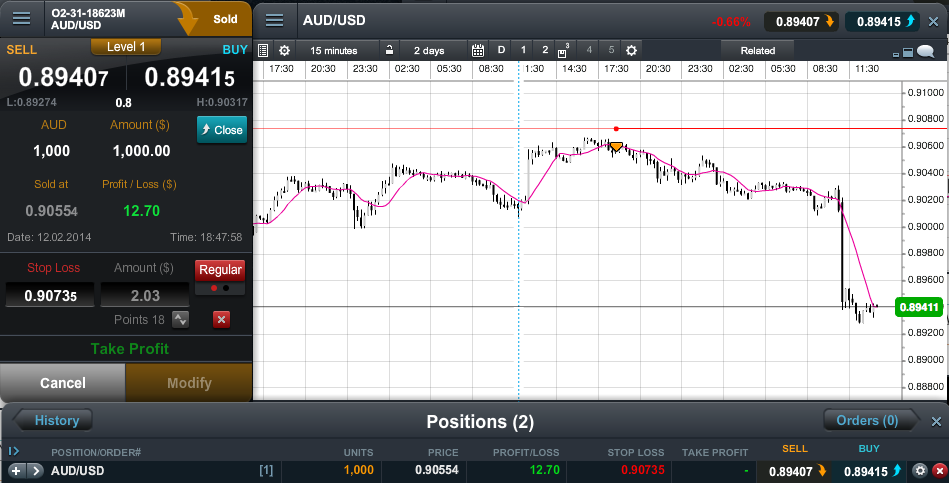 At the course on the following night we reviewed this trade and it was up $12.  The numbers don't matter but PERCENTAGES DO.
Reward/Risk Ratio = 12/2 = 6 or 600% in 24 hours.  Now it is a ridiculous stretch and I certainly don't claim the ability to be able to do this every 24 hours but this annualizes to 600% x 365 = 2,192,190% per annum.  You would be a millionaire in no time.  Ridiculous right!
One of the problems I see is that newbie traders have unreasonable expectations related to
• the possible returns
• the work required to obtain these possible returns
• the time taken to do the work to obtain these possible returns.
By 'work' I mean the knowledge, skills and experience.
Typically, those new to trading have unrealistic expectations at each of these levels.  Wall street professionals would kill for a consistent return of 20%.  Most budding professionals in any area need to put in extensive study and pass examinations.  This process takes four years to earn a University degree.
Every trade starts with a SIGNAL that says it is TIME to trade and WHICH WAY.  The approach or method or 'edge' that a trader is using will determine the SIGNAL.  There are millions of signals that a trader can use.  I advocate that the best signals to use are those having proven profitable in the past.  The more consistent the signal is the more potential there is for profit.  Of course the signal is just the starting point of a fully-fledged PLAN.  Fail to plan, plan to fail.
Get rich quick schemes don't work.  What I offer is education.  I can't know what you will do with it but at worst you should know enough to protect yourself if you will understand and obey the principles.
If you missed any of my WEA courses over the last two weeks then they are all being repeated on Saturday 22 February and Sunday 23 February 2014.  Outlines HERE. Or go to http://www.futuremechanix.com/weacourses.html
BOOK EARLY.  Do it NOW online http://www.wea-sa.com.au/
Or ring early in the week (08) 8223 1272.
Cheers,
Dennis